New Orleans Dine Around
Our Dine Around is a fully customizable tour that brings together the historic district's culture, architecture, history, and food and drink into a multi-hour activity.
Enjoy a three stop, more customizable, formal version of our food tour
You will be hosted by a highly trained licensed New Orleans tour guide, who will take you throughout the French Quarter, showing you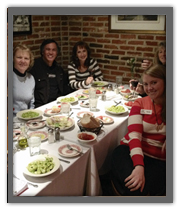 significant buildings, recounting stories, and giving you the insider's look in the area.
Your tour will start with a drink and sampling to introduce you to some of New Orleans' great culinary dishes and drinks.
Throughout the tour you will have the opportunity to some of the city's classic eats and drinks as your guide takes you through the French quarter.
You will then be brought to an old line Creole restaurant for a dining experience: A tour of the building and many of the rooms, first class service standards, and a multi-course meal serving up some of the best dishes that can be found in the city.
When the tour is finished, you will have a good understanding of the city, its importance, and one of a kind culture.
This tour is currently being held for private groups only (2 or more). Our event staff can customize the Food Tour's start time, duration, number of stops, and theme to fit your exact specifications.
Public tours will begin to run in April and will be on our event calendar. To book the New Orleans Dine Around, please email us at info@foodtourcorp.com or call Taste of New Orleans Food Tours at 504-273-7616.
Food Tours
Private, Group, Corporate Events and Tours